They came. They saw. They conquered.
Five fashion bloggers from all parts of the world including America, Greece, and the United Kingdom came to Israel as part of the Kinetis mission.

That mission is to share a side of Israel not reported in modern media outlets, which often choose to forgo the positive in favor of the Arab-Israeli conflict, politics and religion.  The mission has become to explore Israel's cultural scene, which in the case for these style-savvy fashionistas and fashionistos means Israeli fashion.  And what a boost their appearance has been for the Israel fashion scene! The bloggers included Bryan from Bryanboy, Rumi Neely from Fashiontoast, Robb Young from A Shaded View on Fashion, Daniel P Dykes from Fashionising, and Ada Alti from Trendland and Eau De Style.
Aside from major explorations of fashion areas in Tel Aviv including Old Jaffa, Rothschild and Dizengoff, the bloggers have also had the chance to visit with major Israeli designers at their studios, talk to Shenkar students about their ongoing projects, and collaborate with innovators.
But perhaps a highlight of their tour (or at least the one I'm going to highlight here…their TLVStyle tour with TLV Style founder and fashion tour guide Galit Reisman, TLVStyle International Marketing Executive Rachel Grosman, and a bevy of designers waiting for them.
The TLVStyle tour is a customized fashion tour of Tel Aviv designed by Galit Reisman specifically for guests who are looking to find fashion off the beaten path. In other words, an up close and personal look of fashion in Tel Aviv, which means not only visiting shops but also visiting studios where designers are beginning to create the clothes you see in the region.
This tour took the crew from Rupin St. to Yaffo's flea market area and back to Gan Hachasmal where designers like Maria Berman, Rachel Cohen (Common Raven), Tamar Primak (Ishtar by Tamar Primak), Yosef Peretz (Yosef), Liora Taragan, and Anya Fleet were waiting for the bloggers.
At Tamar Primak's studio, Bryan posed with the designer.  At Maria Berman's show, the designer got passionate about her work and then let Bryan boy try on her silver tyvek trench, which went especially well with his Alexander McQueen Fall 2012 silver visor!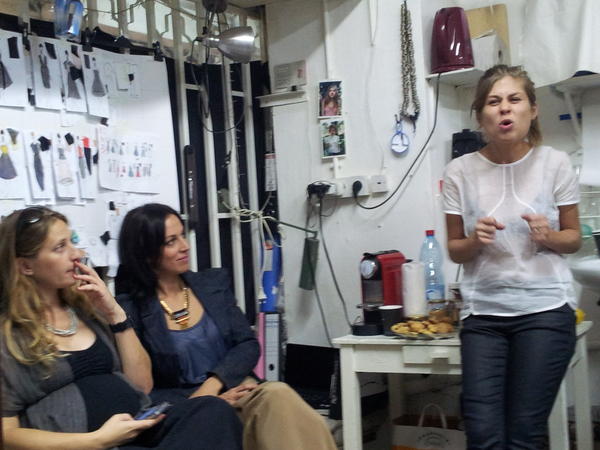 Robb Young from A Shaded View of Fashion called Berman's clothes "a clever take on utilatarianist femininity" and "that boom of urban impact that a thumping city like Tel Aviv needs in order to truly capture its restless energy into clothing." He said the same about Rachel Cohen's "sharp, minimal spin" for Common Raven.
But it was Yosef in the Jaffa Flea Market area that really got the bloggers going…and it spun into an afternoon of one fashion designer success after another.
The bloggers were transfixed by Yosef's urban chic prowess, edgy eveningwear, and graphic prints, which included a pair of fish tights photographed by Daniel from Fashionising.
Robb Young called Yosef's style a "mutant strain of vavavoom." Everyone was in love with the textiles he created. "They loved how he was a true artist that went beyond just fashion and expanded to home decor, furniture.  They all wanted the velvet couch and wallpaper created the textiles he designed, " Rachel told me later.  They loved his dynamite urbanism, perhaps best reflected by his influences which include TLV nightlife and one of his favorite customers, Israeli singer Ninet Tayeb, who has come up with an urban rocker chick style of her own.
If it was Yosef that whet blogger appetites, then  it was Liora Taragan really got them excited about Israeli fashion!! Chalk it up to her unique vision,  which focuses on sex, spirituality, and sacrilege, or the fact that she has previously worked under Alexander McQueen, but it was obvious that Taragan treated her pieces like works of art and the bloggers could see that and felt that's exactly what they were.
She discussed how she always struggled to draw the line between being an artist and being a fashion designer," Rachel told me, "I think this is probably one of the things that they liked about her the most.  That she is a true artist."
Liora's influences range from punk to religion.  She creates one-of-a-kind pieces, jewelry and accessories, embroidered ensembles, and outfits out of feathers.
If Liora Taragan's designs were rebellious and dark, then Anya Fleet's designs went in an entirely different direction…bordering on sexy and stylish, but romantic and cutting edge at the same time. Fleet had many extraordinary pieces that had tremendous attention to detail with patterns and fabrics mixed elegantly.  Daniel and Bryan both photographed a rose floral and lace bodysuit from Anya Fleet's Winter 2013 collection.
And then there was further innovation–Anya Fleet's phenomenal showstopping winter coat.  "They loved things that they felt were new, different, and exciting," says Rachel, "I think that's what this piece did for them." The coat had exaggerated sleeves and an oversize hood.  Bryan called himself the "Incredible Bulk."
In short, the fashion bloggers were quite impressed with Israeli fashion, design, and innovation.  "I've been looking at some young designers work tonight and there's some really , really interesting things like the innovation level is just insane," Rumi told Israel Hayom in the video below.
Daniel agrees, "I'm really liking what I'm seeing so far. It's different to what I expected and there's a relaxed attitude to the society here that I wasn't quite expecting," Daniel
Bryan fell in love with the people of the country and even decided to stay a few extra days.  "Love the energy and the vibe, and the people are so utterly nice," he wrote on his Twitter.
Stay tuned for more posts on what happened the week the five famous fashion bloggers were in Israel.
Photos: Kinetis, Galit Reisman, Rachel Grosman, TLVStyle. Noa Magger
Kinetis is a nonprofit organization established to promote the recognition of Israel as a vibrant and inspirational source of creativity and innovation. The organization has invited five International fashion bloggers to Tel Aviv to show them the Israeli fashion scene. Bryanboy, Rumi Neely (Fashiontoast), Ada Alti (Trendland), Robb Young (A Shaded View on Fashion) and Daniel P Dykes (Fashionising) will meet Tel Aviv's designers, journalists, photographers and fashion bloggers.